Grow Your Dental Practice With Google Adwords For Dentists
Get More New Patient Leads With High Performance Google Ad Campaigns
When Your Website Is Not On The First Page Of Google – Its Hard To Get New Customer Leads
Dentists the world over are always looking for new patient leads. Read on to discover why Dental Practices have found success with Google Ads for Dentists.
But first…..
There are 3 ways your website can appear on the first page of Google.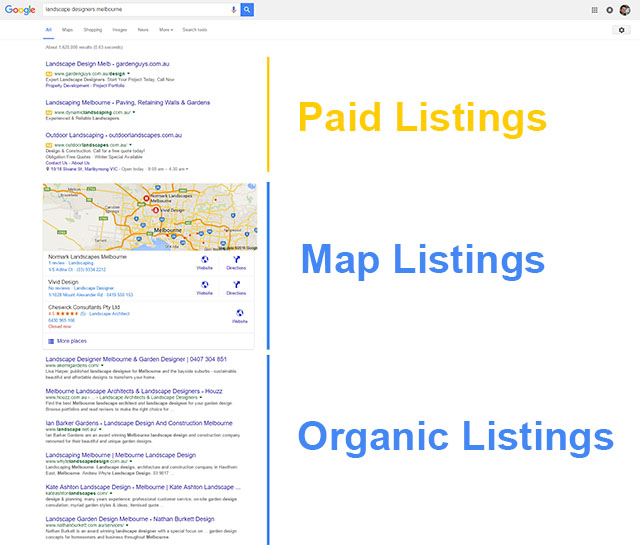 Paid Listings
Appearance in the paid listings of the search results is based on a bidding system called Google Ads (formerly Google Adwords). The order in which ads appear is determined by how much other dentists are willing to spend per click (PPC) when the keyword for which they are bidding is searched. So, other than our campaign management fees, there is no monthly fee for appearing; you just pay when someone clicks on one of your ads or makes a telephone call to your business.
Map Listings
The map listings are critical for your dental practice and other local businesses because they display whenever Google considers local results to be the most relevant. When someone searches for 'dentist + your city,' or 'teeth whitening + your city,' Google recognizes that they are looking for a dental practice in the area and displays google map listings of local dental practices.
For your dental practice to appear in the Google Maps listings. You must first create a free Google Business Profile ( formerly Google My Business). Unlike paid ads, placement in the Google map listings is 'organic' meaning websites are placed according to Google's search algorithm. There are many ways to optimise your Google Business Profile to improve your position in the Map Listings.
Organic Listings
The dental practice websites you see in the organic listings are there because Google believes they are the best quality and most relevant to the search intent of the searcher. The process of earning a place for your dental practice website in Google's organic listings is called Search Engine Optimisation (SEO).
Performing the necessary SEO on your website to move up the rankings to the first page is a medium to long-term investment and can cost you many thousands of dollars and can take many months to get there.
Complimenting your SEO strategy with a pay per click campaign allows you to get website leads in the short term until you have those coveted first-page organic rankings.
Does Google Adwords Work For Dental Practices?
Yes, Google Adwords is effective for Dental Practices. Google Adwords is a cost-effective form of advertising that allows you to target qualified, in-market prospects. When used effectively, it may give a high return on investment, allowing you to increase your practice's clients and leads. Even if your SEO ranking is high, data suggests that including Google Adwords advertising in your marketing mix increases your website visits dramatically.
Will Google Adwords Work For Your Dental Practice?
Google Adwords will work for you as long as you put in the effort to do it well.
If you haven't the knowledge, I won't lie. It's a steep learning curve. Take it from me. I know. 15 years ago I was asking myself the same questions. I was where you are now. I was a small business owner & my website had only just gone live. I needed leads, customers, and sales fast.
My competitors were running Google Ads and I was losing business to them. So I jumped in at the deep end. I taught myself Google Ads. I created, ran, and managed my own Google Ads campaigns. Sure I made mistakes, everyone does. As I said, it's a steep learning curve.
So which way will you go?
Do You DIY Or Hire A Digital Marketing Agency
Your specialisation as a dentist is caring for your patients' teeth, not your practice's internet marketing. And that's very reasonable! You went through all of that schooling and established your dental practice with one goal in mind: to give as many patients as possible confidence and a bright smile.
It's discouraging when your patient numbers aren't where you'd like them to be. You know you have to fix things, but how do you do it? Internet marketing is beyond your area of expertise, and after doing some research, you've discovered there are many Australian PPC Agencies. So, who are you going to go with?
You'll need a team on your side who understands the internet marketing requirements of dentists.
That devoted and experienced crew is Mr. PPC! We specialize in internet marketing for dentists and have worked with a number of dental practices over the past 10 years. You can focus on your business goals while we focus on building your new patient numbers when you leave the internet marketing to the professionals.
What Makes Mr. PPC The First Choice For Your Dental Google Ads Management
Mr. PPC has worked in a variety of sectors and has the knowledge and expertise to help you accomplish your ROI goals. As an Australian Marketing Agency, we not only understand the complexity of Google Ads for Dentists, we also understand your local dental customer. This combination provides you with the best chance of achieving the results you desire and deserve, such as higher online visibility for your dental practice and, as a result, more new patient leads. If you need more convincing then visit our Google Ads Management page.
Google Ads Keyword Research For Dentists
In my opinion a Google Ads campaign is only as good as it's keywords or more specifically it's search terms. In Google campaigns you are targeting and bidding on keywords. But you pay for the actual search terms that trigger your ads.
While there are many ways to research your keywords for your first dental ads campaign, the simplest is to use Googles own keyword planner. After logging in to your Ads account, click on tools & settings then keyword planner.
Type in your seed keywords and you are presented with a list of so-called related keywords, their expected search volumes, high and low bid prices and a competition rating. Keywords with a rating of high competition attract higher cost per click (cpc) rates. Similarly keywords with low competition will be cheaper to bid on.
Top Keywords For Dentists
While to the untrained eye these keyword suggestions from Google may sound great. An experienced ads consultant will look at them differently. While they appear related in the sense that they cover the same topic, product or service in a broad sense these suggested keywords may have very different search intents from the keywords that you have entered.
A professional Google consultant with plenty of experience in running profitable Ads campaigns will be able to tell whether keywords are good or bad by just looking at them, as he or she should understand the search intent behind keywords that are being typed into Google.
​An obvious keyword for a dentist located in Sydney would be dentist in sydney.
A person who types in dentist in Sydney into Google is very likely in need of a new dentist in Sydney. After all, a patient in Dubbo would not search for dentist in Sydney but rather search for dentist in Dubbo.
Besides this I can't think of anyone feeling the need to search for a list of local dentists in their free time without actively searching for a new dentist.
Your First Google Search Ads
Keep Website Content Fresh With A Dental Marketing Blog
Got A Friend Who Needs To Grow Their Business
Word of mouth referrals have been a been a strong driver of our business growth. Perhaps you have a friend who is home builder and could take advantage of our services. Get them to checkout our Google Ads for Builders page.
We have also had much success with running Google Ads For Electricians Campaigns. If you know any electricians we'd appreciate an introduction.